Aims and Scope
Maria L. Pedditzi, Marcello Nonnis
---
Background:
Research on teachers' representations of children's learning is currently ongoing.
Social representations are common-sense theories built and shared in everyday interactions. Their analysis can detect the possible differences between teachers' naïve beliefs and scientific learning theories.
Objective:
The objective of this pilot study is to analyse the beliefs about children's learning of a group of teachers. The beliefs will be related to the most acknowledged learning theories.
Methods:
A mixed methods research was employed to analyse 100 pre-service teachers' representations of the origins of learning and the psychological processes involved.
Results:
It emerged from the results that the teachers interviewed consider children's learning mainly as culturally acquired, which reveals the prevailing constructivist conception of learning. Many pre-service primary school teachers, however, tend to see learning as mere 'transfer of information'; many pre-service kindergarten teachers perceive learning as 'behaviour modification'. The most considered psychological aspects are 'knowledge' and 'acquisition', while emotions are barely considered.
Conclusion:
Linking implicit theories and disciplinary theories could support pre-service teachers in integrating the theory and the practice of learning so as to understand the way their models influence their educational choices.
---
November 13, 2020
Tina Lindhard
---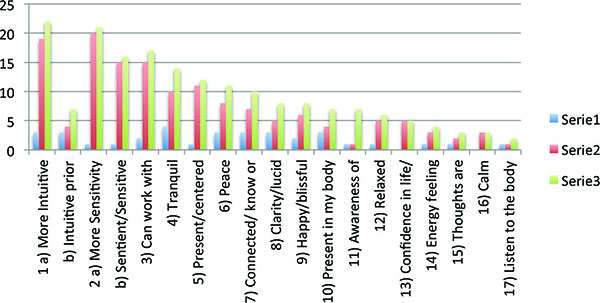 Background:
This paper is based on the results obtained from a research program which showed that training in the heart-based Intuitive Meditation (IM) method brought about a significant shift towards more feeling based consciousness. This data was obtained from a pre-post test design measuring changes in scores on the Feeling Consciousness Scale (FCS). The post-test scale also included several open-ended questions.
Objectives:
Among other aims, the objectives of the present paper are to compare the traits obtained from the open questions to the scale items in order to refine the scale where necessary and to learn more about the quality of feeling-based consciousness; for instance, to compare the scale item "I feel peace inside" with the open answers.
Method:
The method consisted of a comparison of answers from the open questions with the scale items.
Results:
An overlap was found between many of the scale items and traits derived from the open answers. The scale item "I feel peace inside" and the open answers of 36% of the participants suggest that peace might be an inner experience related to feeling.
Conclusion:
The comparison throws more light on the quality of the inner experience of participants after learning IM. It also suggests that peace is an inner experience related to feeling. This has many implications, especially for people who try to create or impose peace on others through military or forceful means. As the sample size was small, further research is suggested, especially with respect to possible gender differences.
---
April 26, 2017