Aims and Scope
Valeria Tullio, Stefania Zerbo, Antonietta Lanzarone, Salvatore Procaccianti, Antonina Argo
---
Electroconvulsive therapy is a treatment that, since its first administration, has been a major topic for debate within the scientific world. In recent years, the debate has become increasingly focused on the short- and/or long-term efficacy of electroconvulsive therapy, its appropriateness in clinical settings, its mechanism of action, the impact evaluation of transient and/or persistent adverse effects, and the drafting of international guidelines, etc.
From the authors' point of view, these themes are inevitably crossed by three other fundamental issues of significant psychological, relational, ethical, and medico-legal impact. Still, they are less studied than purely biomedical issues in recent times. Therefore, the aim of this article is to focus on the following cross-cutting issues: the therapist-patient relationship, the patient's perspective, the attitude on electroconvulsive therapy, and informed consent.
This short review refers to the international literature on ECT published since 2000. Analyses of the three previously listed topics are, in part, made within the context of Italian medical settings.
---
September 08, 2020
Tina Lindhard
---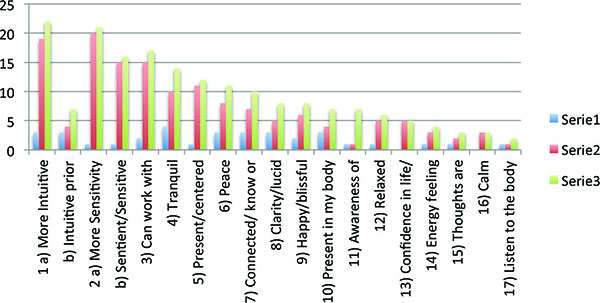 Background:
This paper is based on the results obtained from a research program which showed that training in the heart-based Intuitive Meditation (IM) method brought about a significant shift towards more feeling based consciousness. This data was obtained from a pre-post test design measuring changes in scores on the Feeling Consciousness Scale (FCS). The post-test scale also included several open-ended questions.
Objectives:
Among other aims, the objectives of the present paper are to compare the traits obtained from the open questions to the scale items in order to refine the scale where necessary and to learn more about the quality of feeling-based consciousness; for instance, to compare the scale item "I feel peace inside" with the open answers.
Method:
The method consisted of a comparison of answers from the open questions with the scale items.
Results:
An overlap was found between many of the scale items and traits derived from the open answers. The scale item "I feel peace inside" and the open answers of 36% of the participants suggest that peace might be an inner experience related to feeling.
Conclusion:
The comparison throws more light on the quality of the inner experience of participants after learning IM. It also suggests that peace is an inner experience related to feeling. This has many implications, especially for people who try to create or impose peace on others through military or forceful means. As the sample size was small, further research is suggested, especially with respect to possible gender differences.
---
April 26, 2017