Aims and Scope
Anna Esposito, Alda Troncone
---
Background:
Taking attachment as its theoretical reference, the post-rationalist approach within cognitive theory has outlined two basic categories of the regulation of cognitive and emotional processes: the outward and inward personality orientations. Research on the role of attachment style in individuals' ability to decode emotions has never considered inward and outward orientations.
Objective:
This cross-sectional study was conducted to compare individuals with different attachment styles and different inward/outward personality organizations on their ability to decode vocal emotions.
Methods:
After being assessed for attachment and personality styles, a sample of university students performed an emotional-decoding task, and their accuracy (Study 1) and reaction time (Study 2) was measured. Gender effects were also examined.
Results:
No significant differences in emotion decoding accuracy emerged among individuals with either secure or insecure attachment styles and either inward or outward personality orientations. Both secure and inward individuals were significantly faster than insecure and outward ones in decoding vocal expressions of joy, whereas securely attached individuals were faster than insecure ones in decoding vocal expressions of anger.
Conclusion:
Considering that the recognition of emotion falls within the basic skills upon which typical social interactions are based, the findings can be useful to enhance the comprehension of personality-related factors involved in the context of daily social interactions.
---
October 16, 2020
Tina Lindhard
---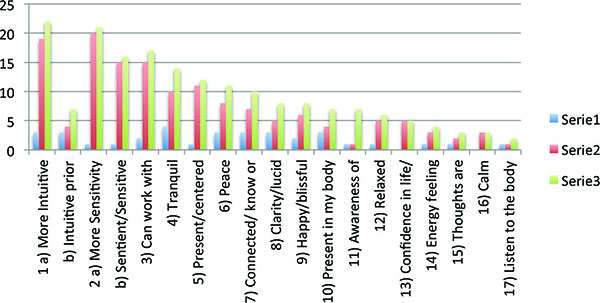 Background:
This paper is based on the results obtained from a research program which showed that training in the heart-based Intuitive Meditation (IM) method brought about a significant shift towards more feeling based consciousness. This data was obtained from a pre-post test design measuring changes in scores on the Feeling Consciousness Scale (FCS). The post-test scale also included several open-ended questions.
Objectives:
Among other aims, the objectives of the present paper are to compare the traits obtained from the open questions to the scale items in order to refine the scale where necessary and to learn more about the quality of feeling-based consciousness; for instance, to compare the scale item "I feel peace inside" with the open answers.
Method:
The method consisted of a comparison of answers from the open questions with the scale items.
Results:
An overlap was found between many of the scale items and traits derived from the open answers. The scale item "I feel peace inside" and the open answers of 36% of the participants suggest that peace might be an inner experience related to feeling.
Conclusion:
The comparison throws more light on the quality of the inner experience of participants after learning IM. It also suggests that peace is an inner experience related to feeling. This has many implications, especially for people who try to create or impose peace on others through military or forceful means. As the sample size was small, further research is suggested, especially with respect to possible gender differences.
---
April 26, 2017