Aims and Scope
A.D. Cahyani, A. Iskandarsyah, S. Cahyadi, W. Srisayekti
---
The purpose of this work is to establish the validity of the Indonesian Palatable Eating Motives Scale (I-PEMS) and to describe the characteristics in palatable eating motives among current Indonesian young adults. The Original Palatable Eating Motives Scale (PEMS) was translated into Indonesian and back-translated into English to confirm the conceptual and linguistic equivalence. The scale was administered to emerging adults aged 18-25 years old. Confirmatory factor analysis demonstrated that the I-PEMS has an acceptable factor structure. The result provided evidence of four factors of palatable eating motives. No significant difference from the I-PEMS score between males and females. The association was only observed between the scores of Conformity motive and Body Mass Index.
---
February 14, 2020
Tina Lindhard
---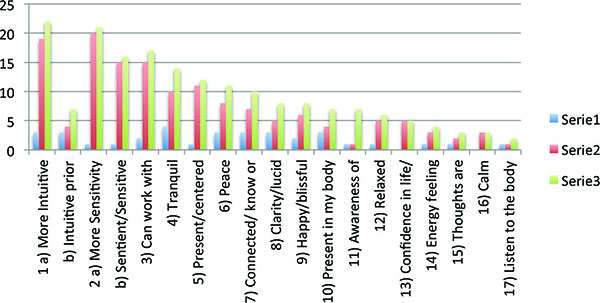 Background:
This paper is based on the results obtained from a research program which showed that training in the heart-based Intuitive Meditation (IM) method brought about a significant shift towards more feeling based consciousness. This data was obtained from a pre-post test design measuring changes in scores on the Feeling Consciousness Scale (FCS). The post-test scale also included several open-ended questions.
Objectives:
Among other aims, the objectives of the present paper are to compare the traits obtained from the open questions to the scale items in order to refine the scale where necessary and to learn more about the quality of feeling-based consciousness; for instance, to compare the scale item "I feel peace inside" with the open answers.
Method:
The method consisted of a comparison of answers from the open questions with the scale items.
Results:
An overlap was found between many of the scale items and traits derived from the open answers. The scale item "I feel peace inside" and the open answers of 36% of the participants suggest that peace might be an inner experience related to feeling.
Conclusion:
The comparison throws more light on the quality of the inner experience of participants after learning IM. It also suggests that peace is an inner experience related to feeling. This has many implications, especially for people who try to create or impose peace on others through military or forceful means. As the sample size was small, further research is suggested, especially with respect to possible gender differences.
---
April 26, 2017